Gameloft Live and Crystal SDK Offer New iPhone Social Networks
We were pretty excited when we first heard that developers were beginning to offer various Xbox Live-like social networks. These networks promise to offer players the ability to follow online achievements, play against friends, chat and more. Over time, however, the number of networks has blossomed with many of the major developers offering their own version. Chillingo and Gameloft are the latest companies to announce/launch their network.

Just a couple of weeks ago, Chillingo announced CrystalSDK which is an open social network platform that promises "a host of innovative features", though no specifics have been revealed. We asked Chillingo's Chris Byatte how Crystal SDK is going to be different from existing networks. Byatte was unable to give details yet but said, "We've listened to player feedback and aim to bring new standards of usability plus we'll be addressing the developer community with A1 support and feedback."
Meanwhile, just tonight Gameloft released a version update to Uno [$4.99] which adds Push notifications as well as a much enhanced Gameloft Live feature which also offers friends, trophies, chat and personal messaging for players.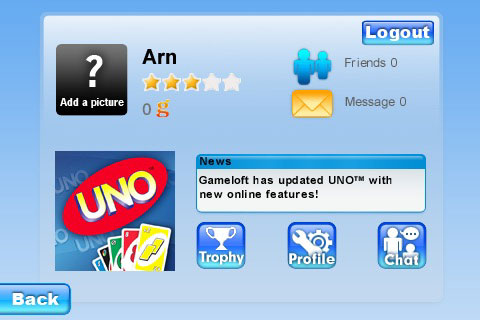 Gameloft has made no announcements on whether or not they would open up their network to other developers, but we'd suspect not.
Meanwhile, we've been reluctant to offer much of an in depth analysis of each system since we don't feel they actually affect consumer decisions yet. At this stage, no one is going choose one game over another based on the social network they support. Here's a list of the various options available. (Crystal SDK is not yet available, and Nmogco's PlusPlus is not yet open to 3rd party developers.)
The decision lies in developer's hands at the moment, though some we've spoken to have been reluctant to make the "wrong" decision at this early stage. Meanwhile, many other developers have already taken steps to adopt one of the various networks available.
Related posts:
Related posts brought to you by Yet Another Related Posts Plugin.