Jailbreak Your iPhone 2G/3G OS 3.1.3 – Using Redsn0w
These are instructions on how to unlock and jailbreak your iPhone 2G & 3G on the 3.1.3 iPhone firmware using RedSn0w for Windows.
It didn't take long for Dev-Team to come up with a tool to jailbreak firmware 3.1.3. Dev-Team has just released
redsn0w 0.9.4
tool to jailbreak and unlock iPhone 2G, 3G, iPod Touch 1G and iPod Touch 2G(Non MC Models). Unlock facility is not available for iPhone 3G.If you are a 3G user on the official carrier, only then proceed with this method as Unlock for 3.1.3(05.12.01) is not available at the moment.
Please note down that if you using jailbroken iPhone 3G, 3GS and iPod Touch 2G(New Models) and iPod Touch 3G, do NOT upgrade to firmware 3.1.3, as your device may no longer be an unlocked one if you do so.
Please Note that both the version 0.93 & 0.94 can be used to Jailbreak 3.1.3 Firmware for 2G iPhone but still we will recommend you to use the latest version of Redsn0w.
To Jailbreak iPhone 2G on firmware 3.1.2 using Redsn0w 0.92 follow here.
Create a folder called
Pwnage
on your desktop.
Download the following files and place them in the Pwnage folder you just created:
Extract the RedSn0w application from the zip file to the Pwnage folder.
Connect your iPhone to the computer and launch iTunes.
Select your iPhone from the list of devices on the left. Now hold down shift and click the
Restore
button. Restore is preferred as it won't create any wasted space on your iPhone.
Navigate to the Pwnage folder on your desktop and select the firmware ipsw. Click the
Open
button to continue.
Once iTunes has finished updating your iPhone to the desired firmware you may launch
redsnw0w.exe
from the Pwnage folder on your desktop.
Once RedSn0w opens click the
Browse
button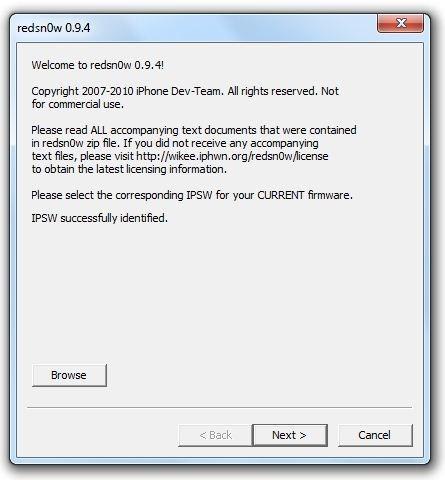 Select the firmware ipsw we placed in the Pwnage folder on our desktop then click
Open
NOTE : Browse &
point the original iPhone 3.1.2 firmware to proceed. This is required because redsn0w 0.9.4 can not read or validate iPhone 3.1.3 firmware
.
Once the firmware has been verified click the
Next
button to continue
From this window you can select the jailbreak options you would like. If you have already pwned your device check the
Already pwned
option.
Verbose boot displays detailed information on boot of your device and is generally only needed by developers and advanced users.
Make sure the
Cydia
and
Unlock
options are selected. For this tutorial we will also select
Custom boot logo
and
Custom recovery logo
.
When you click to select each custom logo option a dialog window will appear asking you to select the image. Locate the image you would like to use then press the
Open
button.
*Remember the rules for boot logos are: RGB or Grayscale format with Alpha channel and dimension below 320×480.
Click the
Next
button to continue
Now connect your device in recovery mode by pressing both the power and home button until the help message on redsn0w disappears.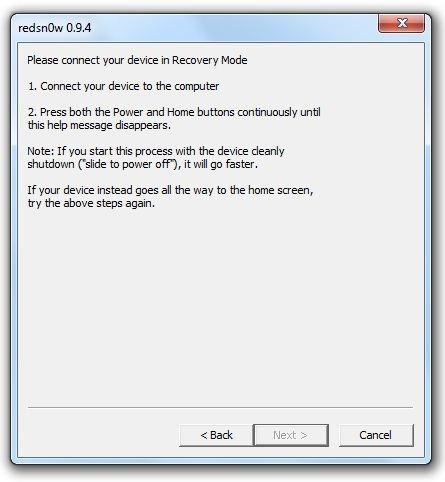 To begin installation, you will need to quickly hold "Power" button, after holding the "Power" button for a while, you will now have to hold "Home" button too. After few seconds release "Power" button but keep holding "Home", installation will begin.
Leave the rest to redsn0w, your device will reboot automatically once the process is completed.
Once this is complete you will be notified that RedSn0w is done. Click the Finish button. After your iPhone reboots (5 minutes or so), it will run BootNeuter then be unlocked and jailbroken with Cydia on the SpringBoard.
*As usual a big thanks to the iPhone Dev-Team for this contribution to the community.
No comments yet.
No trackbacks yet.