The SHAtter Jailbreak Has Been Leaked
The SHAtter jailbreak which was being saved for the next iPhone update has been leaked, according to tweets by MuscleNerd and p0sixninja.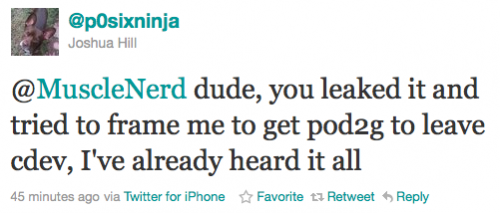 P0sixninja is publicly accusing MuscleNerd of leaking the exploit; however, MuscleNerd states this is not the case and would be illogical for him to leak the exploit since he needs the jailbreak to perform an unlock for the next device. He also notes that there were 15 others in the room when the code was posted by pod2g.
Unfortunately, this likely means Apple will block the exploit by the time any new iDevices are released.
The exploit (and payload) was developed by @pod2g a few months after @p0sixninja discovered the crash. You can watch the jailbreak demonstrated below.
Also of interest, p0sixninja says that an untethered bootrom exploit is still on the way. You can read more of the discussion from both sides via the link to their twitter accounts below…

Related posts:
Related posts brought to you by Yet Another Related Posts Plugin.