'Dirt Moto Racing' Powerslides Into the App Store
iPhone developer Resolution Interactive, who brought us the highly enjoyable Aqua Moto Racing, has just released dirt-track ATV racing game Dirt Moto Racing [App Store] for the iPhone and iPod touch.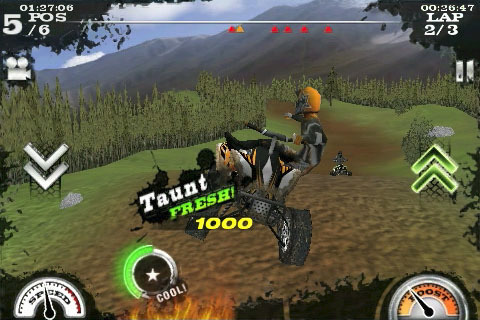 Dirt Moto Racing is an off-road racer that feels something like a scaled-back member of the Playstation 2′s ATV Offroad Fury series. Core gameplay involves working through the game's Career mode, unlocking tours of increasing difficulty — eight in all — set across four different North American locations: British Columbia, Death Valley, Toronto, and the Florida keys. Tracks unlocked in the Career mode can be visited for a quick play in the Single Event mode.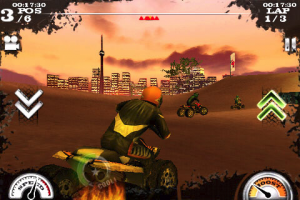 The terrain, while somewhat basic, looks rather nice and polished. The graphical elements in general come together to deliver a smooth, "complete"-feeling racer that runs at a very good framerate on my test unit, the 2G iPod touch. In my early experience with the title, I found the forest scenery a bit more lavish than the desert runs, but every environ makes for a very playable racer.
Dirt Moto Racing utilizes a combination of accelerometer- and touch-based controls. Your vehicle's left / right steering as well as mid-jump lean / pull are handled via accelerometer. Acceleration (unless the cruise control option is enabled), nitro boost, break and view change are handled via touch controls. In-air tricks are carried out by swiping in the center of the screen in any of four directions to indicate the desired trick to be performed. There are 12 ambitious stunts in all, across three difficulty levels. (The more complex stunts do take some skill…)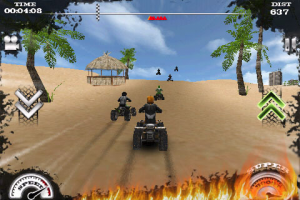 In a nutshell, some of the other standout features of Dirt Moto Racing include: a pounding 12-song soundtrack, online leaderboards, 21 unlockable achievements, 36 unique game events, customizable rider and vehicle and downloadable best-of-the-best ghost play competition.
In all, it's really a great game that offroad racer fans have reason to embrace. The controls feel "right," the physics are solid and it's just a very enjoyable off-road racer that stands as the king of the genre in the App Store. And at $4.99, it comes as a recommended purchase
Our demo video, taken on a 2G iPod touch, shows early gameplay.
[ Full HD version | Low Bandwidth version ]
App Store Link: Dirt Moto Racing, $4.99
Related posts:
Related posts brought to you by Yet Another Related Posts Plugin.